STUDENTS OF KINDERGARTEN PRESENTED THE ASSEMBLY ON THE THEME TRANSPORT DAY.  STUDENTS SHOWCASE THEIR TALENT THROUGH CREATIVE EXPRESSIONS, ACTIONS, AND SPECTACULAR PRESENTATIONS.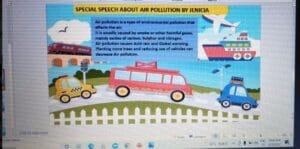 THE STUDENTS TOOK PART WITH GREAT ENTHUSIASM .THE ASSEMBLY COMMENCED BY GLORIFYING THE ALMIGHTY GOD THROUGH THE PRAYER SONG FOLLOWED BY PRAYER .BIBLE READING, THOUGHT FOR THE DAY. THEN THEY WERE TAUGHT ABOUT THE MODES OF TRANSPORT & TO CHECK THEIR VEHICLES FOR EMITTING SMOKE THROUGH THE PPT. WE SHOULD SAVE THE EARTH FROM AIR POLLUTION .FEW QUESTION WERE ASKED TO THE CHILDREN TO ENCOURAGE THEM.FINALLY THE ASSEMBLY ENDED WITH THE NATIONAL SONG. 
MESSAGE CONVEYED: IMPORTANCE OF PURE AIR FOR LIVING BEINGS & THE WAYS IN WHICH AIR IS POLLUTED BY THE VEHICLES AND STEPS TO STOP POLLUTION.
LEARNING OUTCOME:
Means of transport are any of the different kinds of transport facilities used to carry people or cargo. They may include vehicles, 

riding animals

, and 

pack animals

.                                                                               

Vehicles may include wagons, automobiles, bicycles, buses, trains, trucks, helicopters,                                                

watercraft

, 

spacecraft

, and 

aircraft

.

 Switching to a more environmentally friendly fuel can therefore reduce the levels of pollution emitted by your car.

 It is better to turn off the engine at stops such as red lights to save energy and minimise pollution.
By taking certain precautionary steps, it is possible to minimise the air pollution.