MIDDLE SCHOOL Grade VI to VIII
CONTINUOUS, AUTHENTIC AND PROCESS FOCUSED PEDAGOGY
Provides the learner an opportunity to acquire knowledge in a more holistic way
Builds on a variety of disciplines and learning environment
Relates to the past and the future
Draws on the learners strengths & interests
Material and resources are drawn from and connected to the real world
Subjects are taught as ways of thinking
Rests on intelligent behaviors
Applies thinking models and diverse strategies
Supports effective questioning
Develops communication skills
Aids concept development


OBJECTIVES

Acquire necessary knowledge, skills and attitudes for the development of the self and the society
Develop mentally, socially, morally, physically and spiritually
Enhance understanding and respect for own and other people's cultures and their place in contemporary society
Promote positive environmental and health practices
Develop ability for enquiry, critical thinking and rational judgment
Promote acceptance and respect for all persons
Enhance enjoyment in learning
Identify individual talents and develop them
Promote social responsibility and make proper use of leisure time
Develop awareness and appreciation of the role of technology in development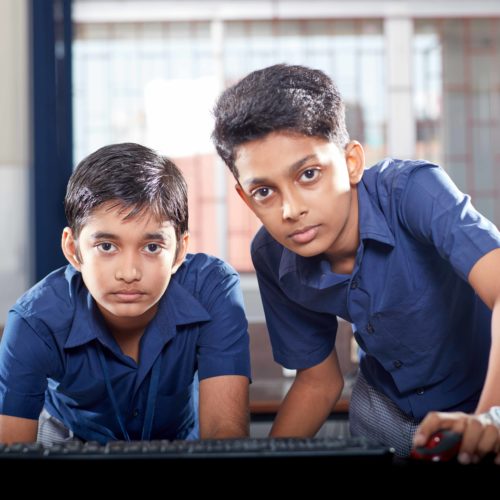 Teachers see themselves as learners who facilitate their students' learning,Exude passion as well as purpose, Teach from the heart, Repeat the important points, ask good questions, help identify what to listen to, encourage peer learning,use differential approach and Never stop teaching.
English
II Language- Tamil/ Hindi
French is not offered as second language in classes VI &VII. It can be opted as a second   language in VIII STD if the student has studied French in their previous school.
III Language – Tamil/ Hindi
Mathematics
Science
Social Science
Computer Science
General Knowledge
Value Education
Art  education
Physical and health Education
Talent Hunt
 P.S     
Third Language is compulsory for classes Std  VI- VIII
Hindi should be a part of one's learning subject either as II Language / III Language for VI-VIII