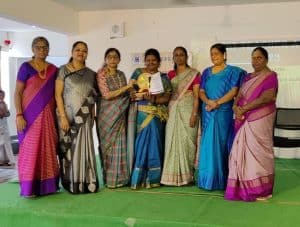 We want to shine a spotlight on an incredible educator who has dedicated her life to nurturing young minds – Mrs. Sumathy!
With unwavering passion and dedication, Mrs. Sumathy has not only educated but inspired countless students. Her classroom is a place where knowledge meets creativity, and curiosity is encouraged to flourish.
Mrs. Sumathy's Achievements:
She consistently goes above and beyond to ensure her students thrive.
Her teaching methods engage and empower her students, leaving a lasting impact.
She has fostered a love for learning that extends far beyond the classroom.
Let's show our appreciation for Mrs. Sumathy by congratulating her on this well-deserved Teacher Award.
Join us in celebrating this exceptional teacher who has touched our lives in profound ways.
Congrats to you, Mrs. Sumathy!  Your influence reaches far and wide, and we are so grateful for your commitment to education.