"The development and well-being of a nation depend on the advancement of its public services. An efficient public service system is an asset for any nation."
"As a public servant you should never restrict yourself to narrow self-seeking motives. Remember that your work is to serve the larger community irrespective of any bias."
These words were perfectly followed, practiced and lived by many great personalities and were excellently conveyed by enthusiastic synergizers of class XI A during the virtual class assembly.
The assembly was composed by Shreya Shivani. It started with a prayer song sung by Sanjay Jonath followed by bible reading and prayer by Dijon and Isha respectively. Shobika proceeded with the introduction of the day's topic "United Nation Public Service  Day ". A video was  presented to emphasize the importance of public services to society. Nithin, Pradhanyaa, Galdinus and Nithya Shree shared PPTs and speeches on various personalities who strived hard for the upliftment of the society in many ways. A quiz was conducted based on the topic. The students enthusiastically participated during this session. Later the courses and opportunities were discussed by Harish S Sundar and Sanjay Jonath.
Finally the session ended with the vote of thanks by Subhikshaa.
Today, every country in the world needs to re-think the structure and operating model of its civil service as we enter the third decade of the 21st century. The next era will see fundamental changes in how public servants are hired, trained, and retained. We will see more technology being leveraged to make better decisions, monitor performance, and deliver service, and there will be a need for the private sector, and wider society, to play a bigger role in all aspects of creating public value. The future public service needs to be more agile, tech-savvy, data-driven, and human-centric. These are core elements to build future readiness, ensure inclusive policies and responsive services, to reduce inequalities and to raise trust in government.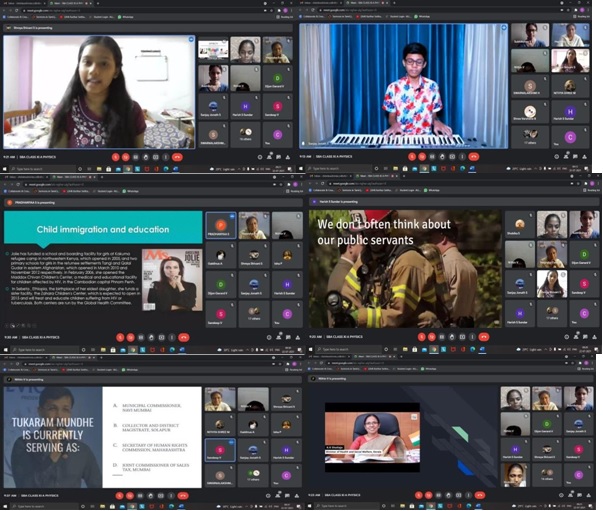 Assemblies are an excellent resource for students to learn more about the topic, develop their values, and provide an exciting venue for them to grow and develop into a valuable member of society and the outlying community. They will also learn about what their school stands for and how it can be the stepping stone to some great opportunities in life. It enhances the power to unify, build interest in extracurricular activities, learning social discipline and builds confidence. Apart from all these things, it also focused on the development of 21st century skills such as organizing skills, leadership skills, communication skills, and especially managing and adapting to the present pandemic situation.